The variety and price differences of the olive oils on offer do not make it easy to choose a good olive oil. Even though one can usually rely on the reviews of institutions when buying, their assessments of extra virgin are sharply criticised (1). Contrary to what is often suggested, it is not about individual brands. Rather, you should pay attention to a few simple things when buying. We give you a few simple tips that will help you find good extra virgin olive oil.
What is extra virgin olive oil?
Literally translated, extra virgin means that the olive oil is natural (virgin) and of a particularly high quality (extra). An olive oil of the highest quality, i.e. "extra virgin olive oil", must bear the following information on the label: "First quality – obtained directly and exclusively by machine from olives". For this highest quality grade, the olives must be processed within a few hours of harvesting and the acidity must not exceed 0.8%. In addition, the olives must be pressed "cold", i.e. at a temperature of less than 27 degrees Celsius. Furthermore, the olive oil may only be extracted from the olives by machine. A chemical process for extracting olive oil is not permitted. il circolo olive oil belongs to the category of extra virgin olive oils and we are proud of this. We advise everyone not to settle for lower quality. Your body and the dishes you prepare deserve the best.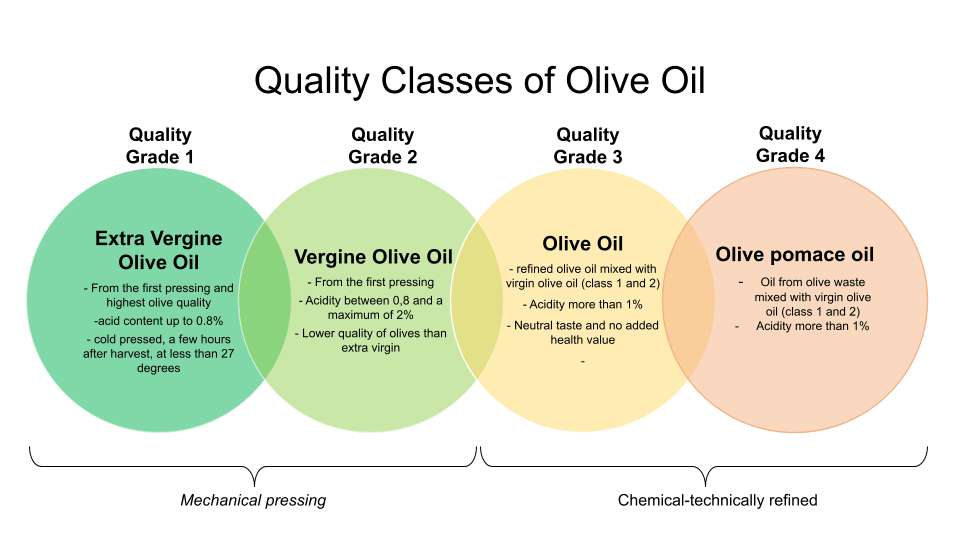 What should you look for?
1. Good extra virgin olive oil often has a seal
Although the term 'extra virgin' is already a good indicator of higher quality than, say, virgin olive oil, there are still miles of difference between the various extra virgin olive oils. So to make a choice for a particularly good olive oil, you can look for other labels, such as the DOP or EU organic label.
The D.O.P. (Denominazione di Origine Protetta) seal states that the product is produced, processed and prepared from a specific region according to recognised and controlled procedures. The seal is a more significant indication of the origin of the olive oil than the so-called "bottled in …" as the latter only indicates where the oil was bottled, but not where the olives were grown.
The organic seal according to the EU regulation states that the product was produced according to the regulations of organic farming. Thus, neither fertilisers nor pesticides have been used and therefore there are no chemical residues in the olive oil.
2. You don't buy good olive oil in the supermarket
Good olive oil can be bought (online) directly from the producer or from a gourmet or specialist shop. Olive oil sold in supermarkets cannot really be compared in taste and quality. The reason for this is that supermarkets buy from wholesalers or producers who often produce on a large scale to guarantee delivery to the supermarkets. Websites of olive oil producers or specialised shops often provide important information on production and inform about other relevant criteria. Thus, when looking for a great extra virgin olive oil, it is recommended to go to producers or specialised shops.
3. Good extra virgin olive oil is fresh
The harvest date must be indicated on the label of extra virgin olive oil. Properly stored, olive oil will keep for 1-1.5 years without losing much of its flavour and good qualities. Nevertheless, the fresher the oil, the more aromatic it is. Therefore, when buying, make sure that you always buy olive oil from the last harvest season.
4. A high price is no guarantee of high quality, but a low price guarantees low quality
An extra virgin olive oil of really high quality, produced sustainably and fairly, can hardly cost less than 10 euros per litre. Therefore, the low prices for olive oil in the supermarket should raise many questions. Have people and the environment been exploited for this? Am I doing something good for my body and health with this oil?
5. Good olive oil has a strong taste and smell
A good and fresh olive oil smells fruity and tastes pleasantly sharp and bitter (pure, not necessarily as an ingredient). These are signs of freshness and a high polyphenol content (antioxidants). Olive oil changes with time, loses pungency and bitterness and becomes flat. Many have never tasted good fresh olive oil and are often surprised when they do. "You may or may not love these bitter and pungent notes of a fresh olive oil, in any case they are a sure indicator of the health of an oil!" ((2), S. 82)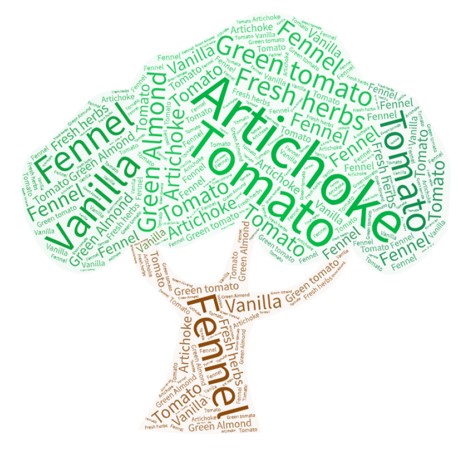 6. Good olive oil names the olive varieties, or is even from a single variety
The more information the producer gives about the olive varieties used, the more likely it is that the origin of the olive oil can be traced. Many connoisseurs describe a single-varietal (mono cultivar) extra virgin olive oil as particularly aromatic, and indeed each olive variety has its own flavour. Some single-varietal olive oils therefore go particularly well with certain dishes.
Purchasing extra virgin olive oil from Sicily
Curious about extra virgin olive oil? Then you've come to the right place. You can find organic extra virgin olive oil and deliciously flavoured olive oil in our webshop. We import the olive oil ourselves from Sicily and can therefore guarantee the best quality. Take a look at our webshop and get to know our products!
Sources:
Merum – Die Zeitschrift für Wein und Olivenöl aus Italien, DOSSIER OLIVENÖL 2003.
Merum – Die Zeitschrift für Wein und Olivenöl aus Italien, DOSSIER OLIVENÖL 2015.